This article is written for project managers or delivery managers who need to understand and/or create a RACI matrix for their SAP Commerce Cloud Implementation projects.
First, what is a RACI matrix? A RACI (Responsible, Accountable, Consulted, Informed) matrix is a table that communicates the roles and responsibilities for a project. At the end of this article, you will have an opportunity to purchase a SAP Commerce Cloud RACI Matrix PowerPoint file inspired by SAP Commerce's article "Recommended Staffing for SAP Commerce Cloud" to use for your future projects.
We felt compelled to write this article because we have seen numerous RACI matrices fall flat when presented to a client's leadership team or internal management stakeholders. RACI matrices are often too granular or do not contain enough detail. We believe a practical RACI matrix communicates the project's critical tasks and their shared responsibility between the client, the software vendor (SAP, in our case) and implementation partner.
Below is a partial example of the downloadable RACI Matrix, which aligns to the SAP Activate Methodology: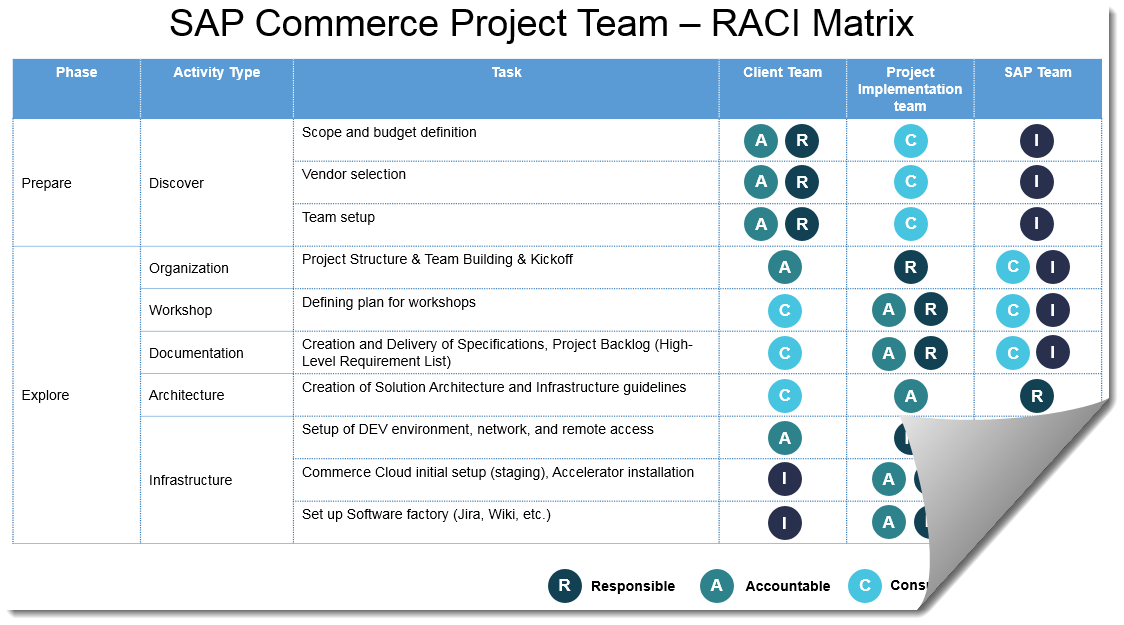 No two SAP Commerce Cloud implements are alike, you will need to modify the downloadable RACI matrix PowerPoint file for your project's specific roles and responsibilities. We hope our RACI matrix Powerpoint file inspires you to create beautiful RACI matrices for your SAP Commerce Cloud projects. If you are ready to purchase the SAP Commerce Project Team - RACI Matrix PowerPoint File, please click on the PayPal payment button to start the download process.
Buy Now to Download the Script/Code: 8.00 USD